Mi ritrovo in un pomeriggio di domenica un pò nevoso a fare zapping fra i 100mila canali di SKY quando vedo una scena familiare di un film familiare con volti familiari:
Dirty Dancing
.
Patrick Swayze e Jennifer Grey. 1987. Assurdo pensare che sarei nata un anno dopo l'uscita di questo film.
I was zapping in a snowy Sunday afternoon when I found a familiar scene of a familiar movie in one of the thousands channel of pay TV: Dirty Dancing.
Patrick Swayze and Jennifer Grey. Unbelievable to think that I was born one year after this movie came out.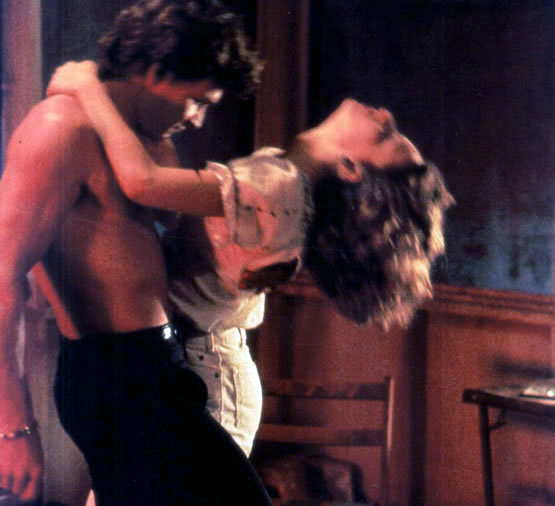 Credo che chiunque abbia visto questo film almeno una volta nella vita e se non fosse così dovrebbe farlo. Una tipica storia d'amore degli anni '80, ma uno di quei film che dura per sempre.
Nonostante lo abbia visto centinaia di volte non riesco a non emozionarmi ogni volta di nuovo.
I think every person in the world have seen this movie once in his/her life, if not he/she would have to do it. It's a typical 80's romance but most of all one of that movie that lasts forever.
Despite I've seen it several times I cannot stop crying every time again and again.

Chi non ricorda la mitica scena finale quando Johnny trascina Baby in un ballo proibito dopo aver detto al padre la mitica frase "Nessuno può mettere Baby in un angolo"?
Chi non ha provato a ripetere i passi sulle note di "Time of my life"?
Fra l'altro la canzone in questione vinse l'Oscar, Il Golden Globe e un Grammy per il miglior duetto del 1987.
Who doesn't remember the epic scene when Jhonny leads Baby on the floor in a dirty dancing after saying to her dad "Nobody puts Baby in a corner"?
Who didn't try to dance on the notes of "Time of my life"?
By the way this song won the Oscar, the Golden Globe and the Grammy for the best duet of 1987.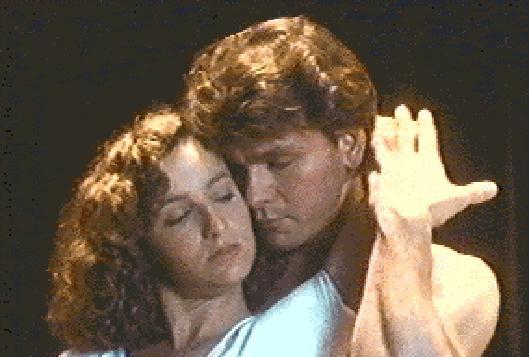 Su Wikipedia ho trovato una notizia curiosa su Dirty Dancing dal titolo
"La Maledizione di Dirty Dancing".
Secondo questa maledizione il ruolo epico dei protagonisti del film bloccò le loro carriere, l'unico a salvarsi fu Patrick che nel 1990 ottene un altro ruolo epico in Ghost. Inoltre la casa produttrice del film fallì nel '90 e molti degli attori morirono in circostanze sfortunate.
On wikipedia I found a curious news on Dirty Dancing called "The Dirty Dancing Curse".According to this curse the epic characters played by the actors blocked their career after that, the only one who succeed was Patrick that in 1990 obtain an important role in Ghost. Moreover the Company that produced the movie went bankrupt in 1990 and a lot of the actors died in tragical situations.

Nonostante questo Dirty Dancing resta per me uno dei migliori film della storia.
Besides that Dirty Dancing is one of the best movie in the history.