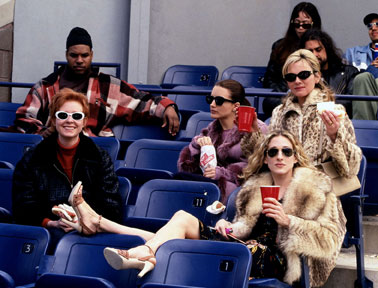 Remember Carrie Bradshaw going to the Yankees game? One of my favorite episodes. Yes, I loved her bravery in going to a game with high heels and fake fur. So this outfit is a complete ode to Carrie's bravery.
King of the look is the New Era Yankees Hat (I know you want it, well you can find all
baseball hats
here at
fanatics.com
) that would look good on any outfit! I left my heart in the Big Apple last August plus the Yankees are a legendary team even in a baseball-free country like Italy so I couldn't choose any other team for my sport-ish look.
My Carrie inspired look couldn't miss on featuring a fake fur long gilet and a super stylish all black Topshop co-ord vaguely 90's to remind you of the long dress our fashion heroine wore.
A look wouldn't be finished without accessories. Well, in this case our
Yankees hat
would be enough but I decided to give the whole look a feminine twist with a red Chanel WOC, rose gold cuffs, Nars "Rita" lipstick and (obviously) Asos gold high heels (I mean, going to a game in high heels is pure logic, right?).
Miss Bradshaw would be proud of me!
---------------------------------------------------
Vi ricordate l'episodio in cui Carrie Bradshaw si ubriaca alla partita degli Yankees? Uno dei miei episodi preferiti di sempre. Sì, ho amato il coraggio nel presentarsi ad una partita in pelliccia e tacchi alti. Quindi questo outfit è una totale ode al coraggio di Carrie.
Il re di questo look non può che essere il cappello New Era Yankees (so che lo volete pure voi, potete trovarlo qui su
fanatics.com
) che calzerebbe a pennello con qualsiasi outfit! Lo sapete, ho lasciato il mio cuore nella Grande Mela lo scorso agosto e inoltre gli Yankees sono leggendari pure in una nazione anti-baseball come la nostra per cui non potevo far altro che sceglierli come team del cuore per questo look (molto) metaforicamente sportivo.
Il mio look à la Carrie non poteva non includere un gilet lungo in finta pelliccia e un coordinato total black di Topshop altamente anni '90 a ricordare il vestito lungo che indossava la nostra eroina.
Un outfit non sarebbe completo senza gli accessori. In questo caso basterebbe il nostro cappello degli Yankees a terminare il tutto ma ho deciso di dare un tocco femminile al look con un WOC rosso di Chanel, dei bracciali rigidi oro rosa, il rossetto "Rita" di Nars e (ovviamente) altissimi sandali oro di Asos (eddai, chi non andrebbe ad una partita in tacchi alti?).
La Bradshaw sarebbe fiera di me!